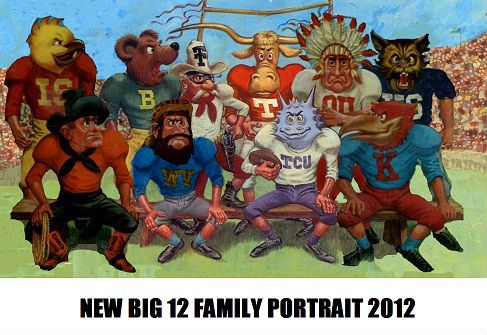 The Big 12 is probably the conference most eager to start the new season after getting shut out of the playoff last year despite two teams that would have been an easy choice to include. Outside of adding New Mexico and maybe Cincinnati, some MAC team, or North Dakota State they will stick with 10 teams for the foreseeable future and continue to struggle finding their One True Champion.
The focus remains on TCU and Baylor as they've built very solid programs in the vacuum of Texas' recent implosion and Oklahoma's mysterious disappearance from national relevance. What happened?
Big 12:
TCU 12-0
Baylor 11-1
Oklahoma 9-3
West Virginia 8-4
Texas 8-4
Oklahoma State 7-5
Kansas State 6-6
Texas Tech 4-8
Iowa State 3-9
Kansas 1-11
Offensive MVP: Trevone Boykin, QB TCU
Defensive MVP: Dominique Alexander, LB Oklahoma
Breakout Star: KD Cannon, WR Baylor
Don't forget to "like"
SKOHRboard's Facebook page
, follow
@SKOHR
on Twitter, and if you enjoyed this article please
it with your friends. You can easily do all three with the links included here, the buttons just below this, and the gadgets to the right of the page!