Classic Lambeau showdown
Ah it's already Friday afternoon and football has been played which you may or may not have known to watch!! My sincere apologies for not posting this earlier but I was otherwise obligated to eat vast amounts of Turkey, Mashed Potatoes, Stuffing, and Beer all day yesterday which left this post to write itself and I think you can see how that turned out. Lazy non-self writing post.
Rivalry Week! Activate!
Friday!
2:30pm
Arkansas at #17 Missouri - (CBS) First I'd like to say that Missouri the state should just change it's name to Mizzou. Way better in every way, it's a total no brainer. I'm not sure what to make of Arkansas this year. They've played everyone tough and while I didn't think their defense was tough enough to hang with the speed of their opponents, they blanked two ranked teams in two straight weeks for their first two conference wins in three years with Bielema as the head coach. Go figure. One of those teams was LSU so I'm not sure that's indicative of anything but Ole Mis was good but they are now without their biggest playmaker BY FAR in Treadwell. Could those games be a sham? I think we find out this weekend if those games were real or not. Missouri is about as under the radar at a team on the precipice of playing in the SEC championship game could possibly be. Quick who is their starting QB? If you said Matty Mauk you were right. How about their leading runningback? Psycho T's Brother, Russell Hansborough. Just kidding they aren't related but you still haven't heard of him. Who are these guys and how do they keep winning? They were in the SEC championship game last year too! What? I think Mizzou comes to play, they have a very good D-Line that should give an explosive Razorback running attack a hard time. Mizzou wins 24-17
3:30pm
Stanford at #8 UCLA - (ABC) UCLA will play the only PAC12 team with a defense this weekend and we'll finally get a chance to see if they are for real. I haven't had faith in this team all year after seeing them limp through their first few games. I think Stanford figured something out on Offense last week but they'll be without their best offensive player today so that definitely doesn't help. I wish he was playing because this is a game that Stanford should win but without him taking the top off this UCLA defense I'm not sure they are able to get out of the box all day. UCLA wins 28-13
#13 Arizona State at #11 Arizona - (FOX) Wouldn't it be nice to be at this game? I think that sentiment is a very simple reason why these teams don't ever really contend for National Championships. Everyone there is pretty much there for the weather and critical things like College Football rank second at best. That's not how you win championships. You need to have an entire community of people who wouldn't realize if their entire state fell into shambles as long as their team was winning. That's dedication. Arizona has to worry about getting the best lounger at the community pool. Arizona's QB Anu Solomon hurt his ankle last week and might not be able to go. Solomon is a difference maker for this Rich Rodriguez offense and without him I don't think they have their same firepower. Even if he does play and if his ankle isn't 100% I think they struggle. The SunDevils win 40-33
Saturday
Noon
#16 Georgia Tech at #9 Georgia - (SEC) I can't stand Georgia Tech. They are basically a Navy that recruits actual Division 1 prospects and tortures teams with the triple option. Ugh. They aren't fun to watch. They are excrutiating to play against because any play can spring a long touchdown but it just doesn't look like football. Everytime I see them I want to say "yeah but if they played real football they'd lose" but that just feels so empty. I feel like the SEC would unanimously vote to move them and Vanderbilt down to D2 or as it's known these days, the ACC. Lolz. Georgia shuts down that stupid option and Nick Chubb runs all over them. The wish they were Yale Bulldogs win 30-22.
3:30pm
Rutgers at Maryland - (ESPNU) It all comes down to this. The Ocean City Bowl, because Maryland has one but New Jersey's is better. The same could be said for the Universities and those Universities' football programs. No silly trophy here, the winner gets Delaware! Yay no sales taxes and the revenue from about 25 tolls on 8 miles of I95! Rutgers wins 100-0!
#4 Mississippi St at #19 Ole Miss - (CBS) Ole Miss really didn't look good last week against Arkansas and I feel like they are a team whose season just unraveled after that crushing loss to Auburn. I don't think it's all Treadwell's absence but that has to be a large part of it. I'd like to see Miss State win but I don't want to see two SEC teams have an argument to be in the Playoffs. I'm conflicted. I wish Miss State had beaten Alabama so this game was for all the marbles. Ugh. Dak Prescott has one last go before Dan Mullen gets hired away to coach Florida. Miss State wins 31-18
Florida at #3 Florida State - (ESPN) Speaking of Florida, this is Head Coach Will Muschamp's last game at that post and most players will typically go all out for that kind of thing. While they probably don't need additional motivation to get up for their local State School I think they bring it today. Florida is loaded with talent, they just don't play great football together. That said they can score on just about any play and they can really get after the football with their team speed on defense. I think the Gators make life difficult for Winston in the pocket and corral a fragile FSU running game while springing a few long plays on offense to pull off this upset. Florida State slides to about #10 in the polls where it seems most people feel they belong based on actual gameplay if Ws & Ls are put aside. Florida 20 - FSU 19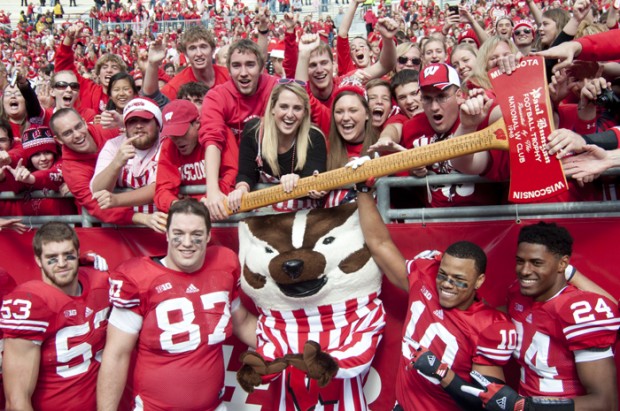 #18 Minnesota at #14 Wisconsin - (BTN) The winner here will play Ohio State for the Big Ten championship next weekend. There are still plenty of questions about the Gophers but they were really impressive beating Nebraska last weekend although the Huskers are losing to Iowa right now so what does that mean. Either way Wisconsin takes Paul Bunyan's Axe this year. They are too good getting Gordon a head of steam and he is very difficult to take down once he gets to the second level as we've seen every time he's gotten to the second level this year. I don't think he'll get 430 yards this weekend to take back the single game rushing record but he'll do well. Wisco wins 35-28
8pm
#15 Auburn at #1 Alabama - (ESPN) The Iron Bowl. Alabama is #1 and looking for payback. The ending to last year's game was absolutely bonkers and I have a feeling that the Tide hasn't forgotten about how that went down. Alabama wins this one big. Bama 42-20
Sunday - I'll stick with the Rivalry Week theme and create a bowl name for each NFL game.
1pm
Cleveland at Buffalo - (CBS) The Can't Have Nice Things Bowl. Have two cities had a more difficult recent past when it comes to sports? I don't think so. Both teams are hanging in there this year and very realistic playoff hopes. While I doubt that anyone would have bet that Kyle Orton and Brian Hoyer would lead a single NFL team to the playoffs this year, here we are. I think that Cleveland is getting better now that they are figuring out their RB rotation and have Josh Gordon back while I feel like the Bills are plateauing. Cleveland wins 28-17
San Diego at Baltimore - (CBS) The This is Why We Live in San Diego Bowl. The Chargers face the harsh reality of late November on the East Coast and pack it in quickly. Rivers gets flustered by the Ravens aggressive defense and Flacco shines. The Ravens seem to be on a role lately and I don't think they slow down here. Baltimore wins 24-10
4:25pm
New England at Green Bay - (CBS) The Rings are Beautiful, Wish I Was Anywhere but Here Bowl. No two teams have looked better than the Pats and the Packers over the past month. This might be the Game of the Month! The question here is can either secondary slow down the passing attack of these teams? I don't think the Pats have the cornerbacks to hang with Nelson, Cobb, and Rogers accuracy while this is exactly the reason the Packers drafted Haha Clinton Dix to match up with Gronkowski. The question is can he actually do that? I'll say yes. Packers win 35-32
8:30pm
Broncos at Chiefs - (NBC) The Middle Bowl. P.E.Y. has had some issues with all the good players on his team getting hurt lately and without them he really can't do much. Peyton is a distributor not a playmaker. The Chiefs also have a very aggressive defense and if they get going I could see the Broncos taking another loss here. However, if Von Miller and Demarcus Ware can make things difficult for Alex Smith I'm not sure that the Chiefs Jamal Charles will have much room to run. I'm going Broncos here because I don't think Peyton will show up with his team unprepared another game even with his backups. Broncos win 31-24
Don't forget to "like"
SKOHRboard's Facebook page
, follow
@SKOHR
on Twitter, and if you enjoyed this article please
it with your friends. You can easily do all three with the links included here, the buttons just below this, and the gadgets to the right of the page!