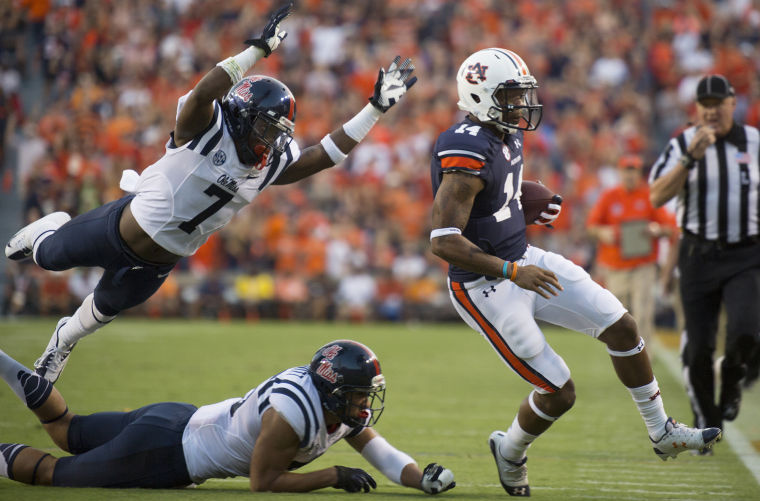 Be careful Auburn, Ole Miss is sneaky!
WARNING: There are only five weekends left of full regular season College Football games this year!! Get your watching in while you can!!
The biggest game of the weekend will be Saturday night at 7pm when #4 Auburn plays at #3 Ole Miss. There are a lot of interesting games to watch outside of that thought and I'll take you through them...
now.
What to watch!
Thursday
7:30pm
#2 Florida State at #25 Louisville - (ESPN) Florida State players are apparently made of some non-stick material. Their Heisman defending QB and now starting RB have both been accused of some heinous aggression towards women in the past year and while the rest of the sports world is cutting players or throwing the book at guys accused of these things, Florida State is taking the, "if we have exhausted all means and still cannot get the player out of jail, only then will we suspend for perhaps just a series or two our players who run afoul of the law" approach. Here's hoping that a Teddy Bridgewater-less L'Ville Cardinal shows the country that FSU is just not as good this year as they have been recently. FSU wins 42-28
8:25pm
Saints at Panthers - (NFL/CBS) Both teams are 3-4 (well the Panthers have a tie, yuck) and still at the top of their Division. The Cam Newtons will try to rack up a few more yards this week than last and fortunately they are playing a very porous defense helmed by a very angry Rex Ryan. It's really been their achilles heal because their offense is putting up 28 points per game, which is good for 5th in the NFL. Saints win 32-23
Saturday
Noon
Wisconsin at Rutgers - (ESPN) It's pretty nice being in the Big Ten isn't it? In the past when Rutgers had a noon kickoff against a non ranked team it was definitely not on a major TV channel. Now it's two unranked teams playing and Rutgers is on ESPN Regular. Not bad. Anyway, the Scarlet Knights will try to rebound with or without their injured QB, Gary Nova who has practiced but still appears to be a gametime decision for this game after getting his knee driven into the field by a Defensive Tackle last weekend. If he can't go, it's up to Redshirt Freshman Chris Laviano to lead the Knights against a surprisingly good Wisco pass defense. On the other side of the ball, the Badgers Badgers Badgers are led by Ameer Melvin Gordon. Ameer Abdullah, the Nebraska running back who gave Rutgers defenders whiplash last week was a good warmup for Wisconsin's Melvin Gordon. Abdullah is first in the country in rushing yards while Gordon is only 4th. In fact, three of their four remaining games feature top RBs. Wisco's Gordon is #4, Indiana's Coleman is #3, Michigan State's Langford is #21 (and he basically didn't play their first three games with an injury) in the country in terms of total rushing yards. Trial by fire for Rutgers LBs this year. Rutgers wins 27-23
Hopefully Abdullah is the only one of those top RBs who can actually fly.
3:30pm
#7 TCU at #20 West Virginia - (ABC) I hope that the Mountaineer defense shows up a little more than Texas Tech's did last week when they surrendered 82 points to the Horned Frogs. Maybe they are just all outta points after that? I have maintained all year that West Virginia is heavily underrated as you've surely noticed in the SKOHRboard rankings but TCU is a team that looks like they might be a Top 5 team whereas WVU might top out around #12. This game is going to be played in front of a West Virginia fanbase who will be collectively losing their minds and if things break right, I think they could pull off the upset. That won't happen though. TCU beats WVU 52-40
Florida at #11 Georgia - (CBS) This is basically Florida's last chance to get some respect except for a November 29th matchup with FSU. If they lose here will Muschamp still be the coach for the Thanksgiving weekend contest? Florida is extremely talented so they should be able to win or at least compete in every game they play. Their last four recruiting classes were nationally ranked as #12, #3, #4, #8 while Georgia's have been #5, #12, #12, #7. There will be lots of talent on the field and lots of cocktails just off the field as this game is also dubbed the World's Largest Outdoor Cocktail Party. Georgia wins 20-13
7:30pm
#4 Auburn at #3 Ole Miss - (ESPN) Ole Miss lost a heartbreaker to LSU last weekend and I think that was the beginning of the end for the Rebels playoff hopes. I think they lose this game and the Egg Bowl to Miss State. 9-3 isn't a bad record at all but it's tough when you legitimitely believe that you are going to play for a National Championship at any point during the season. Auburn's offense is just too tough to stop for four quarters. It's designed to spring big plays and that is just what will happen here. Auburn is actually a lot like LSU but with a QB who is a legit threat. Auburn wins 23-19
Stanford at #5 Oregon - (FOX) The Ducks try to keep things together against a Defense that has repeatedly foiled them in the the past. Stanford meanwhile has to hope that they are able to get something going on Offense. It's really hard to believe that they are just that bad at putting points on the board but look at this; against Power 5 teams they've scored 10, 20, 14, 34, 10, and 38 points this season. That's not good. Overall they are 91st in the country in points scored and 2nd in points against. What's up with that? Maybe it's time for a QB change? Oregon wins 35-16
PAC12 TIME!!! (rhetorical)
10:30pm
#12 Arizona plays #22 UCLA - (ESPN) Seriously PAC12? UCLA is not a great team, they have just enough talent to be competitive but will not win games they need to. Fortunately they do not NEED to win this game as they are realistically out of competition for anything this year. Arizona on the other hand has to win this game to keep their hopes alive. All that means is that this game will end in some ridiculous series of events only further clouding the hierarchy of the PAC12 conference. UCLA wins 44-38
11pm
#17 Utah at #14 Arizona State - (FS1) Here's another game that the PAC12 hopes you don't notice. I can't figure out what outcome would be worse for the conference and that is probably a bad sign for the conference. Utah and Arizona State have both played the QB shuffle with abnormal success this season and I suppose if you are a nightowl or in your 20's you watch that play out here if you can tune in to enjoy this game (in space?, the internet?, Cab TV?, where is FS1 again?)
Sunday
1pm
Arizona at Dallas - (FOX) The Cardinals look to keep their streak alive against the NFC East after TOTALLY GETTING LUCKY LAST WEEK WHEN THEY BEAT THE EAGLES. Also Dallas might be actively trying to bring about the end of the Tony Romo era if they trot him out there again this weekend. Here's hoping that Larry Fitzgerald finds the endzone again, and again, and again. Arizona wins 34-28
Philadelphia at Houston - (FOX) The Eagles try to rebound this week against JJ Watt. I'm not sure if there are other players on the Cougars Texans but it would seem that they really don't need them too much this season as Watt has really been a one man wrecking crew. For some reason I think Jordan Matthews has a breakout game here. Eagles win 38-20
4:25pm
Denver at New England - (CBS) Again? Somehow the league always manages to get this matchup to happen. It's like they are in college and this is some protected historical rivalry that just cannot not happen. Either way, it's good football. Denver is probably the best team in the NFL right now and the Patriots aren't going to slow them down. Revis is playing better but there is only one of him. Manning put his ability to find the open guy on display last week as he made Emmanual Sanders look like an All Pro. I feel like unless former Rutgers WR, Tim Wright absolutely blows up, the Broncos win here. Denver wins 30-27
8:30pm
Baltimore at Pittsburgh - (NBC) Roethelsomething put together a ridiculous game last week and would really like to keep that mojo going against a Ravens team most likely playing without their best CB, Jimmy Smith. The Ravens have been playing well despite not having Ray Rice this season. A big tip of the hat is due to a resurgent Steve Smith who looks like he is 27 again and playing like one of the best WRs in the game. Baltimore wins 27-20
Monday
8:30pm
Indianapolis at NYG - (ESPN) Eli Manning attempts to avenge his brother PEY here but won't. The Giants are at the end of the line. Their "luck" has run out if you will. Eli has long been the luckiest football player on the planet but things seem to be catching up to him now. Andrew Luck is probably the Peyton Manning of this generation. Did you realize that he has only played 2.5 seasons in the NFL so far? His completion percentages were 54% in his first year, 60% in his second and are 65% now half-way through his third season. This guy is not only one of the best already, but he is still getting better. It's got to be good to be a Colts fan. Indy wins 30-17
Don't forget to "like"
SKOHRboard's Facebook page
, follow
@SKOHR
on Twitter, and if you enjoyed this article please
it with your friends. You can easily do all three with the links included here, the buttons just below this, and the gadgets to the right of the page!