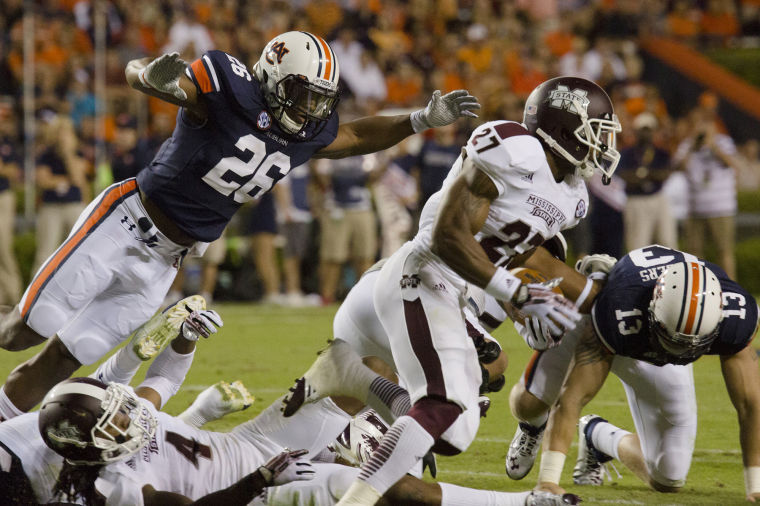 Auburn comin'
There are some fun games Thursday night but drop your plans for Saturday afternoon because 3:30pm has some great matchups that you do not want to miss.
Hard to believe that the Red River "Showdown" at Noon and the Florida v LSU at 7:30pm game aren't really noteworthy this season. Sidebar: How strange is it that three of the highest revenue programs in Florida, Michigan, and Texas are a combined 7-8 right now? It wouldn't be surprising at all if they come out of the weekend 7-11 either.
Let's see who's playing!
Thursday
7:30pm
BYU at UCF - (ESPN) A Taysum Hill-less BYU travels to Central Florida. BYU wins 34-24
8:25pm
Indianapolis at Houston - (CBS) Andrew Luck and the Colts take on a surprisingly frisky Texans team led by JJ Watt who is looking just about unstoppable again this season. Indy wins 20-17
Saturday
Noon
#13 Georgia at #23 Missouri - (CBS) Just when Georgia seems to have everything moving in the right direction their star running back Todd Gurley goes and gets suspended. Oops. This game is going to be a lot closer now and there is a good chance that Mizzou can upset Georgia too. Missouri wins 27-26
3:30pm
#12 Oregon at #18 UCLA - (Fox) This game would have been so much more exciting if it happened two weeks ago when they were both not coming off of horrendous championship dream crushing loses. They are both still in contention to win the Pac12 but so is everyone else in the Pac12 except for Colorado who has apparently been seen googling "Is there College Football Relegation." Watch this game to see if the two star QBs, Oregon's Mariota and UCLA's Hundley can look the part of Heisman winners like everyone hoped they would before the season started. Well Mariota has looked great this year with the exception of just a decent showing last week. Oregon wins 44-20
#9 TCU at #5 Baylor - (ABC) The second biggest game of the weekend here and a battle between the top two teams in the Big12. Is TCU for real? Is Baylor for real? I think TCU might surprise some people because they actually have this thing heretofore undiscovered in Big12 circles called "defense." Both teams have prolific offenses, the Horned Frogs probably more surprising than the Bears who have been scoring 15 TDs a game for years now dating back to the pre-RG3 era. This game has tremendous potential and I'm really excited to see Bryce Petty continue to lead his team to the promised land even after breaking his back in Week 1 and continuing to play! Baylor wins 48-31
#2 Auburn at #3 Mississippi State - (CBS) Here's the big one. Auburn has been playing top notch football for a few years now and in my opinion has more experience in these big time games than Misssissippi State does. That said the Bulldogs have looked every bit the part of a top team in their games so far this season. Both QBs, Auburn's Nick Marshall and MSU's Dak Prescott, play some highly entertaining football and this game should be a lot of fun to watch. The winner will have a big leg up on taking home the SEC West title. Auburn wins 27-24
9pm
#3 Ole Miss at #14 Texas A&M - (ESPN) Can Ole Miss do it again? They got way up to beat Alabama at home last week but now they have to go on the road to play an angry A&M team with a very powerful offense. I think it's going to be hard for Ole Miss to pull this one off as A&M looks to have a rebound game and show that they belong at the top of the Conference but that's why they play the games. Keep an eye on Ole Miss WR Laquon Treadwell. He was the top WR recruit in the country two years ago and looks to be playing every bit the part as he was a one man wrecking ball against a top tier Alabama secondary last week.
10:30pm
USC at #10 Arizona - (ESPN2) Arizona showed up big last week when they knocked off Oregon and will have to do so again as they face a flawed but dangerous USC team. The Cats haven't exactly been dominant this year but they do keep winning. It should be fun to see if Rich Rod can keep their mojo going this week and maybe help everyone better understand exactly what is going on in the Pac12 this season. USC wins 32-28
Sunday
1pm
Patriots at Bills - (FOX) Tom Brady is back! Did he ever leave? He might be playing better but I don't think the Patriots are as good as they have been in recent years. The Bills with Orton now in his second week with the team actually look pretty decent. I have a feeling that the Bills front seven defenders are going to give Brady more than he can handle on Sunday. Bills win 21-17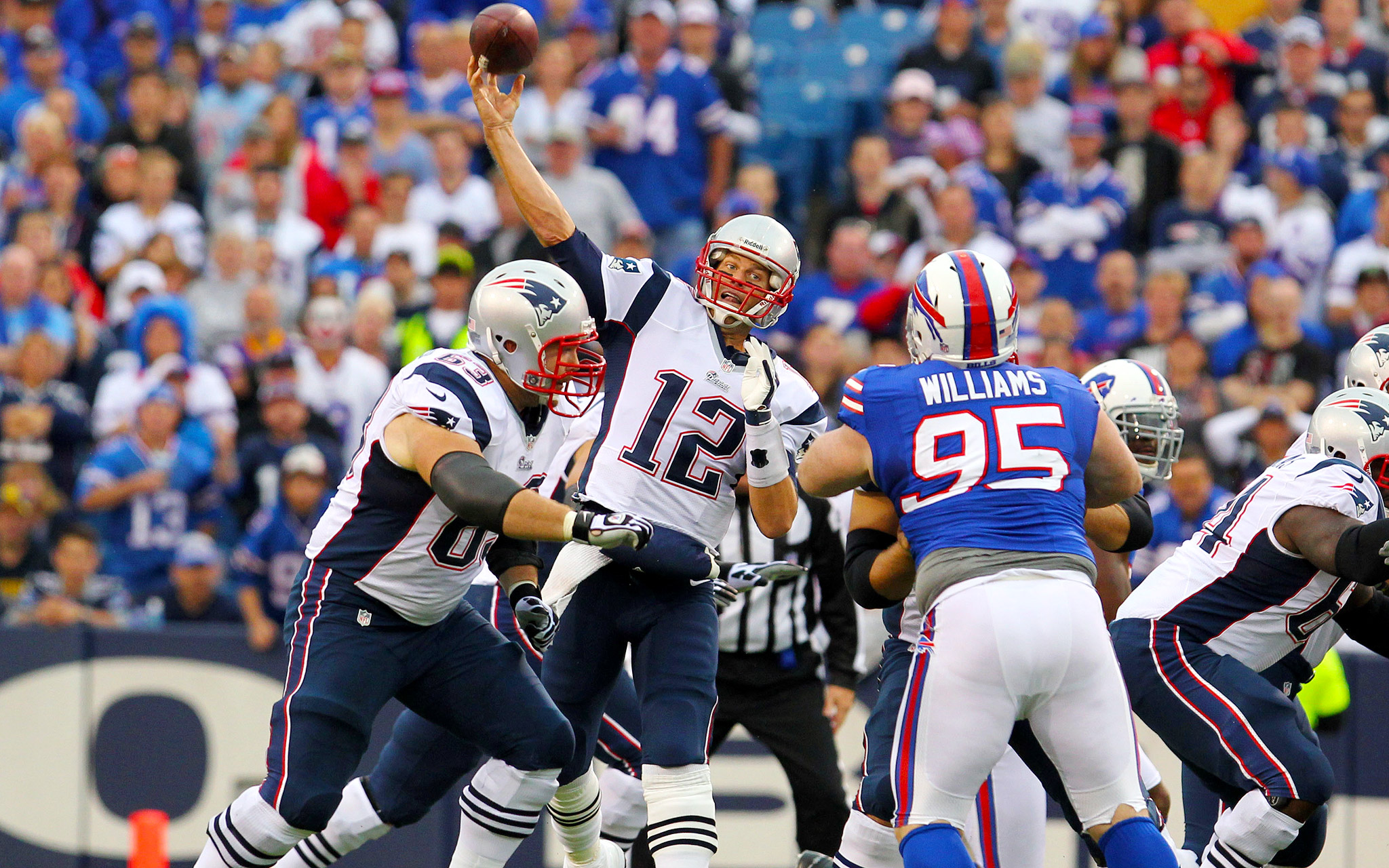 Panthers at Bengals (FOX) The Bengals did not come to play in Prime Time last week but have a fascinating matchup against the Panthers this weekend. The Panthers are basically a Cam Newton only Offense and a very good defense. Can the Bengals shut down Newton after looking so vulnerable against Brady and the Pats? Bengals win 28-20
4pm
Bears at Falcons - (FOX) Could two teams swing more wildly from week to week? At times they look like serious playoff contenders and the next week look completely unable to contend. Both teams need to get things moving in the right direction and there is no better time than now. Falcons win 32-30
Cowboys at Seahawks - (FOX) The Cowboys face a major test on Sunday as they travel to Seattle to take on the Seahawks. I think Romo is going to have a long day as the DBs in Seattle won' t be so easy to throw desperation heaves against as the Texans D was last week. Should be fun to watch Russell Wilson and Lynch try to get it going against a Cowboys defense that has surpassed just about everyone's preseason expectations. Seahawks win 38-17
8pm
Giants at Eagles - (NBC) Game time! Assuming the Cowboys get brought back to Earth by the Seahawks in the afternoon game, this one is for the lead in the NFC East. The Giants have looked much more formidable lately and the Eagles have collected perhaps the flukiest four wins of anyone this season. We all know that Eli is more than capable of dropping the football right into Eagles players hands for defensive TDs but unfortunately he doesn't punt too. Can the Eagles get McCoy going this week? He's looked mostly terrible for the past three weeks but that could be due to the OLine being banged up. Eagles win 27-26
Don't forget to "like"
SKOHRboard's Facebook page
, follow
@SKOHR
on Twitter, and if you enjoyed this article please
it with your friends. You can easily do all three with the links included here, the buttons just below this, and the gadgets to the right of the page!