 The Crushing of Dallas' Dreams Plan has been in motion for a while
The Bowl Season kicks off tomorrow morning at 11am Eastern! The most wonderful time of the year! It's also the penultimate weekend in the NFL regular season and while a few teams have clinched there are a number of division games that will determine both who is in and seeding. This issue will deal only with the NFL games as I hope to have a full Bowl Preview for you tomorrow morning.
Saturday
4:30pm
Philadelphia at Washington - (NFL) This is a must win game for the Eagles as they will need to end the seasons final two weeks with one more win than the Cowboys get over the same period in order to make the playoffs. The Redskins seem to be ripe for the picking as they've displayed generally nothing that looks like competent football play recently. Eagles pull out of about a month long funk just in time to beat the Giants next weekend and make the playoffs. Eagles 35 - Redskins 13
8pm
San Diego at San Francisco - (CBS) The 49ers have looked dreadful lately and Philip Rivers might not play this weekend due to some back issues although my guess is that he pulls it together in time and suits up. The reason you should watch is because there is a very real possibility that a Maize and Blue Helicopter lands on the field at some point and picks Harbaugh up right off the sideline if things get any worse in SF. Chargers win 24-17
Sunday
1pm
Cleveland at Carolina - (CBS) It's a must watch game because Mr. Johnny Manziel is taking the helm at QB for the Browns in just his second start ever. You might have heard that the first didn't go quite as expected and I have a feeling he could turn that around this week especially as Cam Newton might be a little stiff after breaking two Transverse Process in his back in a car accident last week. Carolina still wins 20-17
Atlanta at New Orleans - (FOX) This isn't a game you should watch but it's worth noting as it just might be for the Division Crown despite the teams combined 11 wins. Woof. New Orleans wins 27-20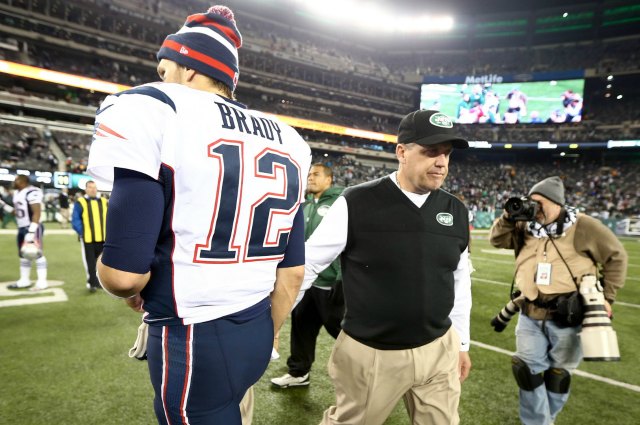 Brady and Rex exchange pleasantries
New England at New York Jets - (CBS) This game features two teams on the complete opposite ends of the "house in order" spectrum. It might be a fun watch just to see what Rex Ryan tries to do to Tom Brady in what could be their last meeting. Patriots win 42-13
4:25
Colts at Cowboys - (CBS) The Colts have already clinched their division so this one is just for fun but I have a feeling that Andrew Luck would feel nice about winning in the shiniest stadium in his home state. It's also the kind of win that could set the Cowboys back. If Demarco Murray's hand isn't healed to the point that he is effective and they implode with no running game to rely on in between hail mary passes to Dez Bryant it could be a turning point for the entire Cowboys organization. Both Murray and Bryant are up for new contracts and I don't think they'll both get what they are looking for from the Cowboys. While they've put a ton of work into their Offensive Line if they lose either of those guys and Romo approaches the end of his run in Dallas I see some major rebuilding going on there after those departures. That's right, you just read it here first. The Cowboys, Giants, and Redskins are all on the verge of major rebuilding projects thus ensuring the Eagles the next say 4-6 NFC East Division Championships. Nice! Colts win 31-27
8pm
Seattle at Arizona - (NBC) The Cardinals will be starting Ryan Lindley at QB who if I had to guess, isn't super stoked to get his first start this season against a resurgent Seattle Defense that looks just as good as they did last year as they obliterated QBs like Peyton Manning on their way to a Super bowl Championship. Seattle wins 28-13
Don't forget to "like"
SKOHRboard's Facebook page
, follow
@SKOHR
on Twitter, and if you enjoyed this article please
it with your friends. You can easily do all three with the links included here, the buttons just below this, and the gadgets to the right of the page!