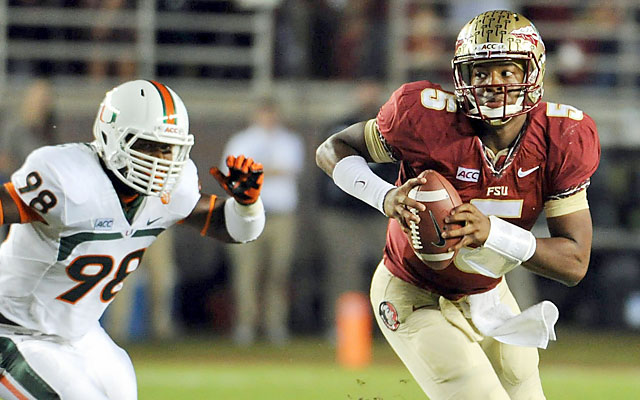 Florida State officials have given Winston diplomatic immunity off the field. Now it's his OLine's turn on the field.
There are a few big games this weekend with College and NFL Season implications. In college the games of the week are the Miss State and Alabama game for a lead in the SEC West, the Wisconsin and Nebraska game for a lead in the Big10 West, then the Florida State and Miami game has upset written all over it.
What to watch
Saturday
Noon
#8 Ohio State at #25 Minnesota - (ABC) Ohio State is going to destroy Minnesota. The Gophers have not played anyone this season somehow and it appears that they will lose their final three games giving a not good team a generous 7-5 record to finish the season. Ohio State is on the upswing, playing very good football right now and needs to make every statement they can to the Playoff Comittee that they belong in the Top 4. I would not be surprised if they try to hang 70 on the Gophers. OSU wins 52-16
3:30pm
#1 Mississippi State at #5 Alabama - (CBS) The Bulldogs travel to Alabama in what will definitely be their toughest road game this season. Look for Presscott and the MSU offense to try to set the tone here and speed things up faster than what Alabama can deal with defensively. Alabama has lots of talent but they'll need to execute much better than they did against LSU last weekend. My general feeling is that Alabama will score quickly in this one and jump to a lead, then put pressure on Presscott to win the game with his arm. Alabama wins 23-17
#16 Nebraska at #20 Wisconsin - (ABC) This will be a matchup of the two best Running Backs in college football this season. Neither team has shown much ability to pass the ball down the field either so we could end up seeing something like 90 total rushes by both teams unless the clock never stops and there are only like 80 total plays in the game. Nebraska's Randy Gregory is a terror off the edge in both the run and the pass so look for him to force Wisconsin's Melvin Gordon to one side of the field which could bottle him up. This game could go either way but Wisconsin feels like the better team to me, their defense is awfully under-rated for a very good unit. Wisco wins 31-27
Rutgers WR Leonte Carroo ripping it up as he is wont to do against Washington State earlier this season
Indiana at Rutgers - (BTN) Rutgers looks to get back on track after a brutal stretch of Ohio State, Nebraska, and Wisconsin in consecutive games. They still have a winning record at 5-4 which is just one win away from bowl eligibility which would probably also safely secure Coach Flood's job for at least next year. 8-4 was my realistic best season for them which if they'd scored more points than PSU rather than just outplaying them and finish the season with wins over Indiana and Maryland isn't that outrageous. Realistically they are looking at 7-5 now if they beat Indy, lose at Michigan State, and win the season finale in the innaugural Ocean City Bowl at Maryland. Indy is on their 5th Starting QB this season and he looks not very good. Hopefully Rutgers' pass rush can remember what it was in the first half of the season and make his day terrible. The Indy RB, Tevin Coleman is right up there with Gordon and Abdullah as far as being in that group of guys competing for most talented RB in the country. If Rutgers D Line can stay active and the LBs make sounds tackles Rutgers could win going away on Saturday. Rutgers wins 28-16
7:15pm
#9 Auburn at #15 Georgia - (ESPN) The return of Todd Gurley. Gurley is probably the best Running Back in the country and he will play in his first game back after sitting out for four games for selling autographed sports things (who buys that anyway)(something Florida State regards as totally cool and not a big deal when their QB Jameis Winston does the same thing). Auburn has looked very very good this year but faces another rough test in a Georgia team looking to prove itself against all the SEC West hype. Auburn probably has had the most difficult schedule of any team this year and will need to win out if they hope to get a shot at the Playoff. Their QB Nick Marshall is very good and their fast paced offense has stars at just about every position in WR Sammie Coates and RB Cameron Artis-Payne. The Bulldogs are going to have a tough time slowing them down and despite Gurley giving them a jump start I don't think they can get enough passing threat going to keep the defense honest. With probably 9 guys focused on Gurley every play I just don't see Georgia pulling this one out. Auburn wins 38-24
8pm
#3 Florida State at Miami - (ABC) Miami has really turned things around over the past few weeks and put together some great games on both sides of the field. Their passing game hasn't been stellar by any means but it's really picked up and that has given their fantastic RB Duke Johnson some room to run. Their defense has never lacked for talent but they'll really need to bring it against a stacked FSU offense whose only weak spot appears to be it's OLine despite a potential 1st Rd OT being a part of it. If Miami's defense can get pressure on Winston and force him to make short throws into smaller windows than just bombs to wide open targets streaking down the field I think they can beat the 'Noles in Miami on Saturday. Miami wins 24-20
Sunday
1pm
Seattle at Kansas City - (FOX) Is Kansas City really 6-3? Is KC actually favored here? Is Dwayne Bowe really still their leading receiver? How good is Andy Reid?! I am a huge Andy fan but I think their luck runs out this week. Seattle seems to be moving in the right direction this week and there is no way that the Chiefs passing game does anything against Seattle which means they can basically play Man on the outside then focus the rest of the personel on KC's RB Jamal Charles. He'll have 75 yards on the ground, 60 in the air and one TD. Seattle wins 31-16
Minnesota at Chicago - (CBS) If Chicago gets beaten here will the fans erupt and oust their coach themselves? I think Jay Cutler's days are numbered which is almost a shame because they have such talent at WR. Jimmy Clausen is the backup here by the way. The Bears are joining a quickly growing list of teams interested in 2015 QBs that we didn't think would be in the market just a few weeks ago. (For the record that list now includes the Jets, Rams, Bears, Bills, Titans, Buccaneers, Bengals, and Texans. Additionally, I only had two teams take QBs in my Mid Season 2015 NFL Draft writeup from last week the Jets took Winston and the Titans took Mariota. What of these teams will take which other Top QBs in the 1st Rd this year?) Chicago wins 20-16
San Francisco at NYG - (FOX) The 49ers are favored in this game but they won a very tight game at New Orleans last week then had to fly home only to pack up and travel all the way back across the country to play a very cold and very early 1pm game. The Giants are also getting their starting RB back as Rashad Jennings returns from an injury after missing the last month. With Jennings and OBJ (I just made that up for Odell Beckham Jr.) playing I think the Giants have a punchers chance although the 49ers will get Aldon Smith on the field for the first time this season. I really feel like this is lining up in favor of the Giants despite that the 49ers are the better team. Giants win 20-13
4:25pm
Philly at Green Bay - (FOX) A classic Sanchez vs. Rogers battle. This has to be the NFL GAME OF THE WEEK. The Eagles are getting back to form now with more Sanchez at them helm while Rogers has the Packers playing just as well as anyone after a thorough demolishing of the Bears last week. Everyone is playing well for both teams right now and it's almost not worth getting into detail on these guys as it should hopefully be just a fun game to watch the whole time. Can't wait! Eagles win! 31-28
Detroit at Arizona - (FOX) These teams only have three loses between them! This game is notable as it will be the first start of the official Drew Stanton era in Arizona after newly re-upped QB Carson Palmer went down with an ACL tear last week. Stanton looked just ok in the three games he started earlier this year while Palmer was out with shoulder issues. Additionally, Calvin Johnson will make his return after a three game absence over lingering injuries and should provide an additional spark to the Lions offense who has looked pretty solid recently despite the revolving door at RB. Look for the Lions DLine to give Stanton just about no time to get the ball off. Cardinals RB Andre Ellington who is having a very nice season for a rather unheralded players will need to shoulder a bigger load moving forward. Lions win 24-13
8:30pm
New England at Indianapolis - (NBC) Remember 10 years ago in 2004 when Tom Brady and Peyton Manning were two of the best QBs in the game and this was already a classic duel? How lucky have these two franchises been to have Prime Time players at the most important position on the field for such a long time? Good for them. The New York Jets are not jealous at all. AT ALL! (Since Peyton was drafted in 1998 here is a list of all the QBs who have started for the NYJ - Vinny Testaverde, Glenn Foley, Ray Lucas, Rick Mirer, Chad Pennington, Quincy Carter, Brooks Bollinger, Kellen Clemens, Brett Favre, Mark Sanchez, Greg McElroy, Geno Smith, and Mike Vick and here is the list for the Colts, Peyton Manning, Curtis Painter, Dan Orlovsky, Kerry Collins, and Andrew Luck. Outside of the Three Headed QB Monster in 2011, they have had just Manning and Luck start at QB since 1998.) About this game though, it all comes down to Indy stopping Gronk in my opinion. Indy will get some big plays from Hilton but if Gronk can consistently beat the Colts LBs and Safeties the Pats win. I think the Colts can do it though. Indy wins 32-30
Don't forget to "like"
SKOHRboard's Facebook page
, follow
@SKOHR
on Twitter, and if you enjoyed this article please
it with your friends. You can easily do all three with the links included here, the buttons just below this, and the gadgets to the right of the page!