It's the Big10 East Championship this weekend!
It's a weekend of marquee matchups in just about every conference. Except for the ACC because they are all terrible except for Florida State. Let's get to it!
Thursday
8:25pm
Cleveland at Cincinnati - (NFL) It's the battle of Ohio. Can Mo Sanu save the Bengals by himself this season or will anyone else make a play for them? I hear AJ Green is coming back but Sanu is still the main man there. On the flip side of the ball, I have the say, the play of the Browns Wide Receivers has been remarkable for a group that now 8 weeks into the season I still can't name a single one of them. Cincy wins 20-17
Saturday
Noon
#12 Baylor at #15 Oklahoma - (FS1) Baylor appears here in probably their best chance at redemption this season. While Baylor still has a shot to win the Big12 I think the conference as a whole has to be rooting against them this season. Their best shot at making the playoffs is clearly the winner of TCU and KSU this weekend. While this should be a fun game to watch I don't think it will really impact the outcome of the Big12 or the conference's chances at fielding a team in the Final Four. Baylor wins 48-44
3:30pm
Texas A&M at #3 Auburn - (CBS) I fondly look back on the time in early September when the Aggies looked like world beaters and Auburn was still the luckiest team on the planet from just a season ago. Things have changed mightily in terms of perception but I still feel that Texas A&M has the talent to play this one to the wire. Auburn has an absolutely brutal schedule this year and when you run the risk of overlooking Texas A&M I think your program is in a great place generally but it's still a risk. Both offenses are capable of putting up gobs of points and both defenses have talent all over the field. Auburn wins 37-26
#10 Notre Dame at #9 Arizona State - (NBC) Both teams sit at 7-1 with this season defining matchup approaching. The winner here will set themselves apart and capitalize on realistically their last remaining chance to prove themselves worthy of Playoff contention. My feeling is that Notre Dame's defense is vastly superior to ASU's but then again the Sun Devils have played right with everyone they've faced all year (how Pac12 of them). Notre Dame wins 34-24
7pm
#18 UCLA at Washington - (FS1) Having just written my Mid Year 2015 Draft look ahead article I couldn't help but notice just how many prospects Washington has that could be taken in the first few rounds. If first year head coach Chris Peterson has started to move this team in the right direction I think this game could continue our Pac12 trend of the year that will result in all teams beating one another until everyone finishes 4-4 in the conference. I've heard a lot about Shaq Thompson and look forward to watching him take on UCLA's one time Heisman hopeful QB Brett Hundley. Washington wins 24-22
7:30pm
#7 Kansas State at #6 TCU - (Fox) For a conference without a championship game the Big12 championship is basically going to be decided on Saturday unless the winner here drops a game to an under-qualified opponent later on. Both QBs here are a ton of fun to watch, TCU's Trevone Boykin was a WR until this year and KSU's Jake Waters is maybe the most under rated QB in college football this year, he almost engineered a win over Auburn a few weeks ago. Kansas State wins 37-33
8pm
#15 Ohio State at #8 Michigan State - (ESPN) This is the Big10 East championship and it's not really close. After these two it's a four way tie of mediocrity between Rutgers, Maryland, Michigan, and Penn State for third with Indiana a distant last. Lots of punditry has been saying that Michigan State has to win this game and win out for the Big10 to get an entry into the Playoff. I agree that Ohio State's loss to Virginia Tech is far worse than MSU's to Oregon or Wisconsin's to LSU but we have to remember that it was their QB's second start ever and first against a Power 5 Opponent and the team has played better every single week since then. The Buckeyes that show up in Michigan on Saturday are a very different team than the one that lost to the Hokies. (Personally, I was really hoping the Hokie losing version showed up when they played Rutgers but apparently that wasn't in the cards). There has also been a lot of hype surrounding the Spartans draft eligible talent including QB Connor Cook, RB Langford, WR Lippett, and DE Calhoun but I think having seen a few more Ohio State games that despite the names not being as well known the Buckeyes can absolutely matchup with everything that MSU is going to throw at them. I'll be most interested to see how the most heralded Defensive Coordinator in the game Pat Narduzzi matches up against one of the greatest Offensive innovators of the past decade in Urban Meyer. Ohio State wins 32-24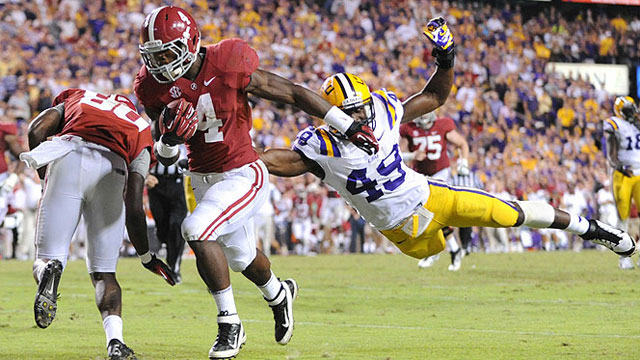 Alabama is back in Death Valley on Saturday
#5 Alabama at #16 LSU - (CBS) Alabama might still be the best team in college football but they just aren't playing like it lately. Not that they are losing but their wins just seem so unspectacular like we'd expect from a team with as much collected talent as Alabama. I did some recruiting analysis last week and looked at each team's four year recruiting rank average every year going back to 2002 when Rivals.com started doing a signing final ranking. Alabama's average class over the past four years, was #1. Not that LSU has been slacking off, their average class for the past four years is the 5th best with an average finish of 8th. To put Alabama's average of #1 into perspective, the 2nd best in the game was Ohio State and their average finish is 5th. For a team that can recruit like they do and has NFL players at almost every position, their QB has been so underwhelming. McEvoy and McCarron both won a lot of games but neither was stellar like we've seen elsewhere. I realize it's hard to find, recruit, sign and develop Hall of Fame Quarterbacks or even game changing QBs but I get the feeling that Nick Saban does not want that. Maybe he just likes the predictability of a Pro Style offense but it would seem with the way he can recruit special players that a Spread Style game would exploit the playmaking ability of those special players by getting them in mismatches and in space. Talking about this game specifically though we get to see another top ranked team going to LSU to play at night. It's never a place that a team can feel confident and with LSU's defensive speed and Offensive Line strength against Alabama's non-prolific offense and relative rebuilding defensive line that we are set to see another upset. Speaking of underwhelming QB play, has LSU had a QB to write home about since Jamarcus Russel? Seriously. He was probably the best QB that Les Miles ever had down there. He made plays in College but it was clear pretty quickly how much those players around him made up for his lack of anything but arm strength. LSU wins 15-13 (Classic SEC score)
10pm
#4 Oregon at #17 Utah - (ESPN) Utah has been a great story this year and definitely plays a tough brand of football but they will not slow down Oregon. Utah's defensive line is it's strong suit and they'll give the Ducks some trouble but over the course of the entire game Oregon will just be too much for them to handle. They will find their playmakers in space and Utah will not be able to match up with them on the outside where we'll see some long Touchdowns. Mariota has a chance here to further define himself as the best QB in College Football and it's worth watching just for that. Oregon wins 48-27
Sunday
1pm
Miami at Detroit - (CBS) The Dolphins are 5-3 right now and might be the most unheralded team in the league with a winning record, even the Browns are getting some street cred. The problem is that nobody knows who is on the Dolphins. Rumor has it that Ryan Tannehill, Lamar Miller, and Mike Wallace are playing well. Detroit's defense has been decent this year but they'll be without Nick Fairley this week and because of that the Dolphins could give them a run. Unfortunately it sounds like Calvin Johnson is fully healthy again and will be playing this weekend which means to me that the Lions will definitely win here. Detroit wins 32-20
San Francisco at New Orleans - (Fox) Both teams are 4-4 and need to win every game they can as we head into the second half of the season. These teams both have to be incredibly disappointed with the way the first half of the season has gone and I wouldn't have been particularly surprised if at the beginning of the season if you'd told me that these teams would both finish with 4 losses each. The Saints offense seemed to get back on track last week and while they are at home again the 49ers have to realize that their backs are up against the wall as the Cardinals are running away with the NFC West and Seattle isn't going anywhere so if they want to make the playoffs, each game matters from here on out for them. Saints win 30-27
Monday
8:30
Sanchez and Foles, ready for anything. Thanks to @_Happy_Gilmore for the awesome photo
Carolina at Philadelphia - (ESPN) Carolina got off to a hot start this season but have come back to earth lately as the serious lack of playmakers around Cam Newton has apparently caught up with them. Kelvin Benjamin, the rookie WR is far and away their best threat but he is a rookie with questionable hands. Their half dozen Runningbacks tend to get injured for three weeks at a time after every ten touches or so and have proven largely ineffective. The Panthers defense has also not lived up to their standard of last year as one of the best in the league. Unfortunately for the Panthers this is the beginning of the Sanchez Era in Philadelphia and there is no stopping the Eagles now. He looked confident and accurate last week when he stepped in for an injured Nick Foles. The Eagles are also slowly getting their OLine back together which means that McCoy should start to be more effective. The biggest weakness for the Eagles right now is the back half of their defense. That's right, the entire back half is now a weakness that Demeco Ryans is out with a torn achilles. In my Mid Year 2015 NFL Draft look ahead article from yesterday I drafted UDub's (Washington) outstanding LB Shaq Thompson to the Eagles and the Ryans injury is no small part of that. Philadelphia wins 35-20
Enjoy the games!
Don't forget to "like"
SKOHRboard's Facebook page
, follow
@SKOHR
on Twitter, and if you enjoyed this article please
it with your friends. You can easily do all three with the links included here, the buttons just below this, and the gadgets to the right of the page!