Has Meyer been playing the long game? An eye on the Rutgers job this whole time?
There might not be as many blockbuster type games this weekend as there were the previous two but there are still good matchups at nearly every time slot. Apparently those Mississippi schools can hang this season. We are always learning. Alabama looked mortal against Arkansas last week and Nick Saban hates you for thinking that. TCU is a pretty good football team but Baylor is juuuuust a little bit better. The Pac12 is as evenly matched as any conference has been in recent memory.
In the NFL last week we saw the resurgence of an absolutely dominant Eagles team as they made Eli make the Eli face so much so, that ESPN actually aired a montage of the Eli face. This is not that gif, it's from week one from last year, but I think you get the point. Also the Eliface is a SKOHRboard favorite so... enjoy!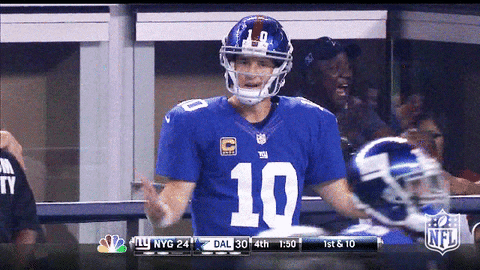 Let's hope there is some more of that this weekend!!
Here's what to watch this weekend:
Thursday
7:30pm
Virginia Tech at Pittsburgh - (ESPN) Hey look! Recognizable football teams are playing and you just got home from work! Great! Actually the Pitt running back James Connor led the NCAA in rushing for the first five weeks of the season or so, then he ran into Iowa and never looked the same. Also Virginia Tech beat Ohio State at the one point this year so that's something. Va Tech wins 28-18
8:30pm
NYJ at New England - (CBS/NFL) If you are a Jets fan and you are being honest with yourself, how much do you miss Mark Sanchez right now? I feel like the Jets QBs have gone a combined 3-36 passing over the last two weeks, which if you are keeping track at home, is bad. The Patriots probably aren't as bad as everyone thought they were when they got crushed by KC but they also probably aren't as good as they have been in recent years. Wouldn't it be a hoot if the Jets won? Patriots win 24-13
Saturday
Noon
#4 Baylor at West Virginia - (Something called Fox Sports 1)* This is another one of those classic Big12 matchups where Defense is something they play only in those fancy coastal towns! "Here in the middle we throw that ball up fer grabs on every dang play like a real football team is 'sposed ta." - Everyone at Baylor and West Virginia. West Virginia has been my favorite Dark Horse team this season after playing both Alabama and Oklahoma very tight in two unfortunately losing efforts. If they can beat Baylor I think they jump into the Top 15. But they'll have to beat Baylor first. *Honestly Fox Sports 1 just move your channel next to ESPN so people can find it. I spent probably 5 minutes scrolling through "all" the channels several times last night completely perplexed as to how the playoff baseball game wasn't on TV only to look it up online and find that it was on FS1, which is after all the foreign channels and even the music channels that nobody goes to. Baylor wins 61-53
#14 Kansas State at #11 Oklahoma - (ESPN) Kansas State QB Jake Waters looked awesome against Auburn but unfortunately he was the only one that looked that way. They need WR Tyler Lockett to make some plays as he is certainly capable of to beat Oklahoma but this should be a great game. Kansas State wins 31-28
3:30pm
#21 Texas A&M at #7 Alabama - (CBS) Can A&M's QB Kenny Hill get his mojo back against a vulnerable looking Alabama team? Can Alabama's stud skill players Yelden and Cooper bust out against an A&M defense that is very inconsistent? I'd watch. A&M wins 38-30
Rutgers at #13 Ohio State - (ABC) Rutgers begins the toughest stretch of games in the program's history with this matchup in Ohio. Their defense has looked very good this year but mobile QBs have given them fits (see Howard). I have a bad feeling that despite being relatively inexperienced, Ohio State's Barrett and the overwhelming talent of their WRs will make for a long day with Rutgers shaky secondary. Hopefully Rutgers QB Gary Nova can play like he did against Michigan and rise to the occasion making this a game that they can win despite Vegas predicting they'll lose by three touchdowns. Ohio State wins 36-24 (kills me to write that)
4pm
#15 Oklahoma State at #12 TCU - (FS1) Has Oklahoma State played a game since losing to Florida State in week 1? Doesn't really feel like it. They are another one of those Big12 teams capable of putting up 80 points if you aren't watching them but I have a feeling TCU went back to the drawing board after giving up 24 points in a row last week to lose a heartbreaker to Baylor. TCU wins 48-44
8pm
#5 Notre Dame at #2 Florida State - (ABC) This game has been all over the news this week as FSU's delinQB Jamies Winston continues to get bailed out by his coach whose livelihood is riding on the success of a wildly immature and out of touch 20 year old who thinks he is above the law and smarter than everyone else. Did that come off as heavy handed? I just think this kid needs a reality check or he is going to find himself in serious trouble sooner than later. In the battle of choir boy QBs I guess Notre Dame's Everett Golson, who was only suspended all of last year for being caught cheating on exams, comes out on top but man does this game feel slimy. I hope they cancel it and everyone just agrees that that would be for the best. Nobody wins.
10:30pm
#23 Stanford at #17 Arizona State - (ESPN) This game is the Week 7 installment of two highly ranked Pac12 teams playing against one another and somehow the whole conference loses no matter what. I can't tell what would be the best outcome in this game for the conference. Stanford somehow cannot put points on the board with 4 star guys at every position when the rest of the country seemingly doesn't know what to do with all the points falling out of their pockets every weekend. If they can figure that out they might be a Top 20 team but until then they are almost painful to watch. Keep an eye on ASU's WR Jaelen Strong, that guy can play. Arizona State wins 31-20
Sunday
1pm
Bengals at Colts - (CBS) Both teams have looked very good at times with the Colts coming on really strong lately. Andrew Luck just makes play after play and is worth the price of admission every weekend. The Bengals were good until Tom Brady blew their doors off in New England two weeks ago. Colts win 35-27
Saints at Lions - (Fox) Somehow the Saints only have two wins so far. They were probably a Top 5 pick to win the Super Bowl before the season started. What gives? The Lions will most likely be without WR Calvin Johnson so the Saints might have the ability to steal this one on the road. Saints win 31-20. It could be 31-26 but the Lions will miss at least two field goals.
Panthers at Packers - (Fox) Two of the most entertaining QBs in the NFL. What's not to like? Cam Newton is seriously like 80% of the Panthers offense and will need to find someone else to share the load or he won't make it through 16 games this season let along playoffs. Aaron Rodgers looked great last weekend but needs to keep it up for the Panthers to win as Eddie Lacy has been underwhelming at best this season. Panthers win 24-21
8:30pm
49ers at Broncos - (NBC) Kaepernick is probably the most divisive QB in the NFL as he can look transcendent at times and like Eli Manning at others. He and Peyton might be the most opposite good QBs in the league and it should be a fantastic game to watch. Both teams are extremely competitive and have fiery leadership. Broncos win 38-28
All Weekend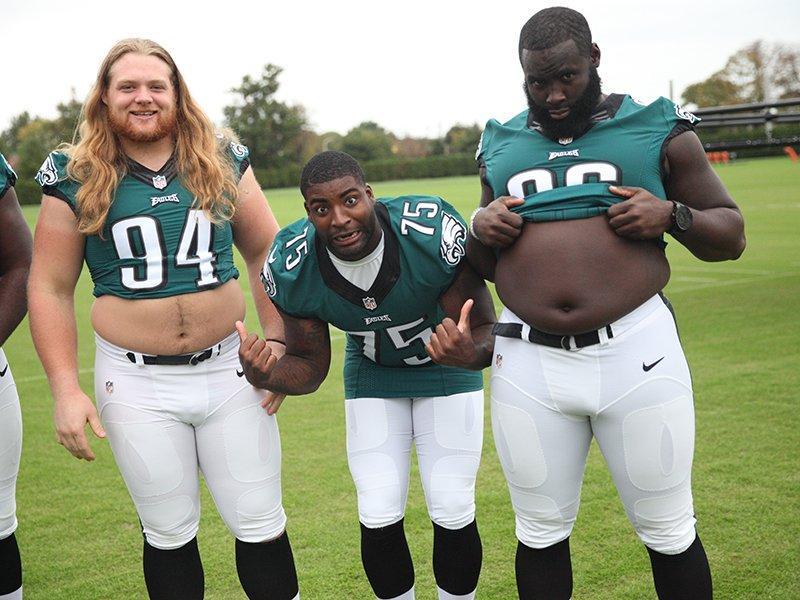 Eagles on a bye week... chilling.
Don't forget to "like"
SKOHRboard's Facebook page
, follow
@SKOHR
on Twitter, and if you enjoyed this article please
it with your friends. You can easily do all three with the links included here, the buttons just below this, and the gadgets to the right of the page!