Getting this close to the NFL season means only one thing, Fantasy Football drafts. As a service to you, dear reader, I am going to be creating a few lists of who I think will be able to help win you some fantasy games this season. That isn't to say that these guys are the only guys you should draft, but rather guys who I think will be more valuable to own than those being drafted around or perhaps just before them. Basically I think that there are some underlying factors causing the market to undervalue their fantasy potential in this upcoming season.
Today we kick things off with the Wide Receivers. I am just working off of ESPN's Top 200 list and checking off the guys who I think should be ranked higher. I'll also note why I like some of them as we go.
-Roddy White
-Mike Wallace
Rumor has it that he will be in camp starting this week and given his clear connection with Roethlisberger last year I think there is no reason to doubt that he can't repeat that performance. When you consider the addition of Todd Hailey, who has favored a #1 WR in the past, I think Wallace has the potential for a huge season.
-AJ Green
Green lit it up in his Rookie year and I think he and Dalton feel like they have something left to prove despite a solid first year together. Without any new offensive weapons to worry about competing for touches look for Green to further establish himself as the next bigtime WR in the NFL.
-Julio Jones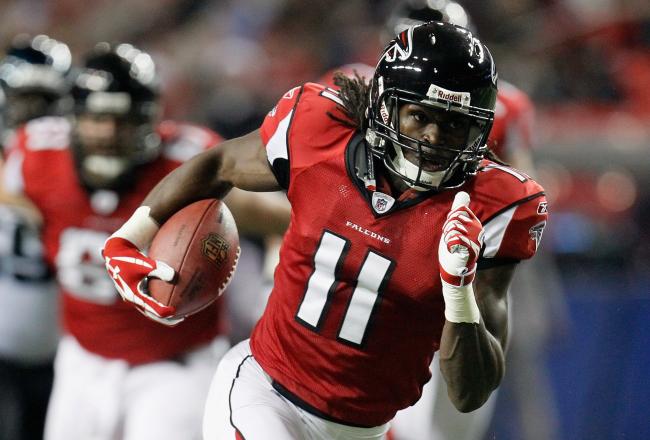 Jones had a solid performance in his rookie year but was competing with the number 1 guy on our list for touches. While he'll still have limited touches due to White, Jones is going to breakout this season because defenses will be forced to choose between one of the two stud WRs plus his improved understanding of the offense and connection with QB Matt Ryan.
-Brandon Marshall
Marshall is back with QB Jay Cutler who helped Marshall establish himself as a top flight #1 WR in the NFL and I expect much more of that to happen now that they are a little more seasoned and reunited in Chicago.
-Marques Colston
-Brandon Loyd
Lloyd had a great year two seasons ago before going to St. Louis where he suffered from playing on the Rams. Despite being in a super crowded offense, being the only true WR playing in a Tom Brady led offense should help anyone's numbers. If he comes anywhere close to his numbers from 2010 he'll be a huge value.
-Miles Austin
-Percy Harvin
Harvin is THE ONLY offensive weapon on the Vikings right now. Seriously, Toby Gerhart and Jerome Simpson aren't scaring anyone. Harvin is going to get the ball a thousand times this season and if he stays healthy should have a monster year.
-Jeremy Maclin
Maclin is healthy this year and that is important. He played okay fantasy wise last season but was coming off a terrible off-season where he suffered from a mysterious illness that prevented him from doing any kind of workout. You can see it took him nearly the first three quarters of the season to catch up as he really turned it on over the final few weeks. There is no reason that production can't continue right where it left off.
-Steve Johnson
Johnson is far and away Ryan Fitzpatrick's favorite target. He has all the skill needed to be a top WR and if the Bills offense can get back to peak form like it did a few times last year I think Johnson can easily be a top 10 fantasy WR
-Demaryius Thomas
Thomas went from catching passes from his Fullback to Peyton Manning. Yes, I think his numbers should improve a bit.
-Pierre Garcon
-Denarius Moore
-Kenny Britt
Britt was headed for a monster season last year before injury derailed his season. Then arrest after arrest caused Goodell to take notice and we can expect him to get at least a game suspension if not more. I realize that those are some pretty giant red flags but he's being drafted in the 60s right now and if comes back healthy even in the third week, he will automatically be a very high WR2.
-Reggie Wayne
Reggie Wayne is going to be Andrew Luck's new best friend. I expect Wayne to see a small resurgence after what was essentially a lost year for everyone in Indy last season. Through two preseason games, Luck looks like the real deal.
-Justin Blackmon
Blackmon dominated college football for the past two years and taking this guy somewhere after the 100th pick is a no brainer despite potential disciplinary action and questionable QB play.
-Brandon LaFell
I know he's an LSU wide receiver and the NFL waiver wire is full of "stud" LSU wide receivers but I think he can really take off this year especially if Cam Newton continues to blaze a trail of awesome across the league.
These guys will give you more bang for your buck on draft day so if they still hanging around when you are up, feel free to draft them and enjoy all the extra points they'll be scoring for your team this season.
Runningbacks are coming tomorrow!
Don't forget to "like"
SKOHRboard's Facebook page
, follow
@SKOHR
on Twitter, and if you enjoyed this article please
it with your friends. You can easily do all three with the links included here, the buttons just below this, and the gadgets to the right of the page!