Guess which one is being drafted with the 9th overall pick?
Today we'll run down the 9th through 12th picks.
Round 1 Pick 9: Carolina Panthers select Michael Brockers, DT, LSU
Carolina has needs on the offensive line, but they were still very explosive last year and go with the best defensive tackle instead. Brockers is young and raw, but he has the size, smarts and willingness to work hard to be a great d-tackle. He came to college as an inside linebacker and just kept putting on weight, thus he has the smarts and ability to find the ball carrier like a LB, but strong and quick enough to be a lineman. Carolina considered a slew of players as they could upgrade their secondary, but like Brockers upside the most. - Jim Mut
Round 1 Pick 10: Buffalo Bills select Malcolm Floyd, WR, Notre Dame
The Bills have spent a lot of money this off-season, including making Mario Williams the richest defensive player in league history. In this division it's all about beating the Pariots and now that they have loaded up their defense to try and stop Brady and company they that need the Ammo on offense to try and out gun them. ND Wr Malcom Flyod is just the kind they are looking for. - Joe-l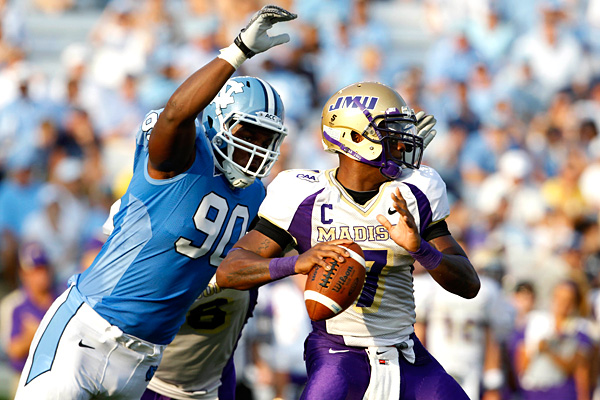 Land Shark - Quinton Coples
Round 1 Pick 11: Kansas City Chiefs select Quinton Coples, DE, UNC
The Chiefs war room was split on whether Ryan Tannehill would be an improvement over Matt Cassel. Cassel was uninspiring as a starter, but we ultimately don't view Tannehill as being much better. The selection of DeCastro dashed the Chiefs hopes at solidifying the interior offensive line, so as GM we are forced to address the pressing need along the defensive line as well. This defense only produced 29 sacks last year, 12 of which came from Tamba Hali. A solid nose tackle is desperately needed for this 3-4 to succeed, but we don't like Dontari Poe, and this seems a bit early for Alameda Ta'amu; likewise, Fletcher Cox probably isn't beefy enough to hack it as a nose. Ideally the Chiefs would trade down after missing out on DeCastro, but with that option off the table, the Chiefs must choose the best pass rusher available, and Quinton Coples looks like a protypical pass-rushing defensive end. - Justin!!!
Round 1 Pick 12 Seattle Seahawks select Luke Kuechly, ILB, Boston College
As a Seattle fan, I am excited as there are no HUGE holes to fill right now, but certainly a few positions that can be upgraded on defense, and that is where Seattle decides to go with this pick. Seattle did re-sign Red Bryant, their run stuffer and also signed Jason Jones to a 1 yr deal on the d-line, which is an upgrade. They lost ILB David Hawthorne but signed veteran Barrett Ruud as a stop-gap. After addressing the o-line last year, I expect them to take either a pass-rushing DE or a LB of the future to team up with KJ Wright to solidify the defense for years to come. Kuechly is a great tackler and Seattle sees him as their larger version of Zach Thomas of the future. - Jim Mut
1 - Colts - Jim - Andrew Luck, QB, Stanford
2 - Redskins - Jeremy - Robert Griffin III, QB, Baylor
3 - Vikings - Justin - Matt Kalil, OT, USC
4 - Browns - Jim - Morris Claiborne, CB, LSU
5 - Buccaneers - Steve-O - Trent Richardson, RB, Alabama
6 - Rams - SKOHR - Justin Blackmon, WR, Oklahoma State
7 - Jaguars - Jeremy - Melvin Ingram, DE, South Carolina
8 - Dolphins - SKOHR - David DeCastro, OG, Stanford
9 - Panthers - Jim Mut - Michael Brockers, DT, LSU
10 - Bills - Joe-l - Malcolm Floyd, WR, Notre Dame
11 - Chiefs - Justin!!! - Quinton Coples, DE, UNC
12 - Seahawks - Jim Mut - Luke Kuechly, LB, Boston College
Picking tomorrow will be:
Don't forget to "like"
SKOHRboard's Facebook page
, follow
@SKOHR
on Twitter, and if you enjoyed this article please
it with your friends. You can easily do all three with the links included here, the buttons just below this, and the gadgets to the right of the page!