Round 1 Pick 25: Denver Broncos select Jerel Worthy, DT, MSU
Denver is in desperate need of an inside presence to help what was a below average run defense last year. Worthy fits the bill perfectly. He is a force inside who more than held his own against very good offensive lines in the Big 10. While Von Miller will be the flash of Denvers d-line, Worthy will be the substance. - Joe-l
Round 1 Pick 26: Houston Texans select Stephen Hill, WR, Georgia Tech
Now that the Texans have become a playoff contender and a division favorite, it is time to address the elephant in the room: the Texans have a horrific receiving corps behind the talented (and oft-injured) Andre Johnson. They need someone else to keep the defenses from bracket-covering AJ, and Hill is a 6'4, 215 pound burner with breakaway speed. Sure, he didn't put up any numbers in an option offense, but he is the same mold as Calvin Johnson and Demaryius Thomas. He might need to work on his route-running, but even having a guy to run vertical routes all day is a vast improvement over the s#!)-show that the Texans trotted out last year. This is the easiest pick of the draft: the Texans are going to take a receiver in the first round, and with Blackmon and Floyd likely gone, it will just be a decision between Kendall Wright and Stephen Hill. With Wright off the board, Hill was a slam-dunk. - Justin!!!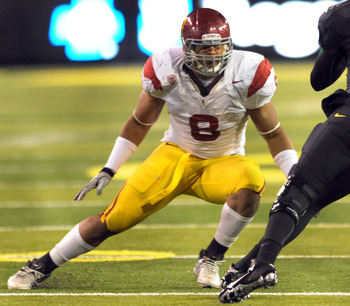 Round 1 Pick 27: New England Patriots select Nick Perry, DE/OLB, USC
A lot has been made about the deficiencies of the NE secondary, and while that is a need for the draft, it was the inadequacies of the front seven that really made things worse for the defensive backs. Nick Perry would prefer to be a defensive end then an OLB in the 3-4, but it is still unclear which would be a better fit in the Patriots defense. What is clear is that Perry's ability to get to the passer will improve a unit, and he has the potential to become a more complete player as he grows accustomed to what the NFL sees as the proper position. He is very powerful, especially with the extra ten pounds gained for his Pro Day. The Patriots need to replace departing defenders, and Perry is the first piece in the puzzle. - Jeremy
Round 1 Pick 28: Green Bay Packers select Devon Still, DE, Penn State
The Packers were third in the league on offense last season and aren't losing much going into next year. However, they were dead last on defense last year and need to seriously upgrade their DL and LB groups. They get a big run stopper with some pass rush ability in Devon Still who they should be able to plug in right away in one of their DE spots. If Raji can get back to his 2010 form and Still plays up to his capability, they can turn this position group that really hurt them last season into a strength. - SKOHR
With one more day to go before we wrap up the first round, here's who's been taken:
1 - Colts - Jim - Andrew Luck, QB, Stanford
2 - Redskins - Jeremy - Robert Griffin III, QB, Baylor
3 - Vikings - Justin - Matt Kalil, OT, USC
4 - Browns - Jim - Morris Claiborne, CB, LSU
5 - Buccaneers - Steve-O - Trent Richardson, RB, Alabama
6 - Rams - SKOHR - Justin Blackmon, WR, Oklahoma State
7 - Jaguars - Jeremy - Melvin Ingram, DE, South Carolina
8 - Dolphins - SKOHR - David DeCastro, OG, Stanford
9 - Panthers - Jim Mut - Michael Brockers, DT, LSU
10 - Bills - Joe-l - Malcolm Floyd, WR, Notre Dame
11 - Chiefs - Justin!!! - Quinton Coples, DE, UNC
12 - Seahawks - Jim Mut - Luke Kuechly, LB, Boston College
13 - Cardinals - Jeremy - Jonathan Martin, OT, Stanford
14 - Cowboys - Justin!!! - Dre Kirkpatrick, CB, Alabama
15 - Eagles - SKOHR - Ryan Tannehill, QB, Texas A&M
16 - Jets - Jim Mut - Dontari Poe, DT, Memphis
17 - Bengals - SKOHR - Cordy Glenn, OT, Georgia
18 - Chargers - Steve-O - Stephon Gilmore, CB, South Carolina
19 - Bears - Jim Mut - Flectcher Cox, DT, Mississippi St
20 - Titans - Steve-O - Jenoris Jenkins, CB, North Alabama
21 - Bengals - SKOHR - Kendall Wright, WR, Baylor
22 - Browns - Jim Mut - Courtney Upshaw, OLB, Alabama
23 - Lions - Steve-O - Mark Barron, S, Alabama
24 - Steelers - Jeremy - Dont'a Hightower, LB, Alabama
25 - Broncos - Joe-l - Jerel Worthy, DT, Michigan State
26 - Texans - Justin!!! - Stephen Hill, WR, Georgia Tech
27 - Patriots - Jeremy - Nick Perry, OLB, USC
28 - Packers - SKOHR - Devon Still, DE, Penn State
Tomorrow we'll have:
29 - Ravens - Justin!!!
30 - 49ers - Joe-l
31 - Patriots - Jeremy
32 - Giants - Joe-l
Don't forget to "like"
SKOHRboard's Facebook page
, follow
@SKOHR
on Twitter, and if you enjoyed this article please
it with your friends. You can easily do all three with the links included here, the buttons just below this, and the gadgets to the right of the page!