The NBA Playoffs began over the weekend with a few surprises and generally some great games. The #1 seeds in both the Eastern and Western Conferences played games that were much closer then they wanted. In the Spurs case it was too close because they actually lost their playoff opener. The 8th seed Pacers somehow squandered a 10 point lead with around 3:00 minutes to play as the Bulls pulled out the victory.
The two most compelling series in the West is the Nuggets vs. Thunder. The Nuggets win SKOHRboard's most resilient team of the year award for becoming a better team after losing a top ten talent in Carmelo. They have been playing great basketball lately but run into young and explosive team in the Thunder. OKC's acquisition of Kendric Perkins may turn out to be even better than initially given credit for. He provides the muscle in the middle to combat some of the other Western Conference Bigs. He and Nene also happen to totally despise each other and their battle should be a great one. Meanwhile Westbrook and Durant are still the most exciting tandem in the NBA over Wade and LeBron in my opinion.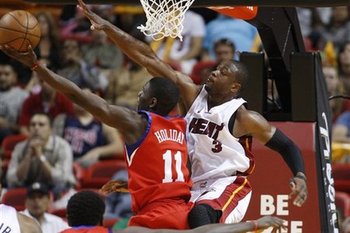 The Eastern Conference match-up that most people are excited about has to be the plucky 76ers vs. the evil Miami Heat. Everyone is pulling for the young Philadelphia squad in this series despite their heavy underdog status. Jrue Holiday and Thadeus Young hope to lead the Sixers against the most athletic team in the Association while fans just want Evan Turner to be half as impressive as John Wall was during the regular season. Meanwhile LeBron and Wade hope Chris Bosh stops wanting to hang out with them because he is really annoying and thinks he's cool but everyone knows that he's not.
"I MADE AN AWESOME PUTBACK LAYUUUUPP, BE MY FRIEND!!"
Wade to LeBron "he's still not invited to hang out after the game."
That's it. The NBA Playoffs include every team in the Association and they'll take the next four months to play but there is nothing else interesting besides what I've covered above. Can you believe that? If you disagree please let me know what you're excited for or watching in these first round games in the comments.
Don't forget to "like"
SKOHRboard's Facebook page
, follow
@SKOHR
on Twitter, and if you enjoyed this article please
it with your friends. You can easily do all three with the links included here, the buttons just below this, and the gadgets to the right of the page!