The First Round series of the NBA Playoffs are are mostly into their 4th or 5th games if they've even made it that far. It seems like lots of the young teams are coming to play and giving the established NBA top dogs a real run for their money. If anything it makes the Playoffs much more exciting for fans. The consensus top three teams in the league LA, San Antonio, and Chicago have all looked vulnerable.
The only teams that haven't been able to avoid the sweep so far are the New York Knicks who were ousted by the Celtics last night and possibly the Denver Nuggets who are down 0-3 to the Thunder and play game 4 tonight. As far as I can tell, the young and talented teams aren't waiting to get that playoff experience, which is so often cited as critical for success but rather, they are just going out there and winning games. Perhaps this is the "changing of the guard" that the NBA has needed for years?
Let's take a look at each series and see what's going on.
East
Sixers vs. Heat
1-3
Despite being down 3 game to none, the Sixers rallied at home over the weekend and pulled of the upset to avoid the sweep. "The Big Three" haven't looked so hot in this series as they continually let the much less talented 76ers hang around. Jrue Holiday has really played well and is showing why people think he could be a star. Even Evan Turner looked good in their game over the weekend. This could be a very good series for a young Sixers team as we look forward to next season.
Celtics vs. Knicks
4-0
The Celtics really played well and took advantage of a dilapidated Knicks roster. After losing Billups and Stoudimire, the Knicks really didn't have much hope despite some great offensive performances from Carmelo Anthony. Boston executed almost flawlessly at the end of each game and didn't leave much room for New York to even dream of the upset.
Hawks vs. Magic
3-1
This is probably the 2nd biggest shocker of all the Playoff series so far. The Magic absolutely destroyed the Hawks in the first round of the playoffs last season. It was a sweep and possibly one of the most lopsided sweeps ever. However, this year a completely different story. The Magic can't seem to get out of their own way and the Hawks just aren't missing. If Orlando can't find someone to help Dwight Howard there might not be many games left with Howard playing in a Magic jersey.
Bulls vs. Pacers
3-1
While the Bulls have looked better during the last two games, they haven't at all looked like the #1 seed in the Conference. The Pacers have been in every game so far this series and now MVP, Derrick Rose is going to be playing with a sprained ankle. It remains to be seen how bad it is or how effective he'll be but this is certainly not good news for the Bulls going forward in these Playoffs.
West
Nuggets vs. Thunder
0-3
As mentioned above, the Nuggets are on the verge of being swept. The Thunder have looked very good and they're just playing better basketball than the Nuggets are right now. Despite playing well down the stretch, Denver's lack of star power has been very evident in this series.
Spurs vs. Grizzlies
1-2
This is easily the biggest shocker of all the series so far. NOBODY thought the Grizzlies even had a chance to win this series but here we are playing the 4th game right now with the Spurs a game behind. Ginobli has been banged up but is still playing hard, Duncan is looking slower and slower, and Parker hasn't really been playing that well. All of that means that San Antonio is currently in "must win" territory.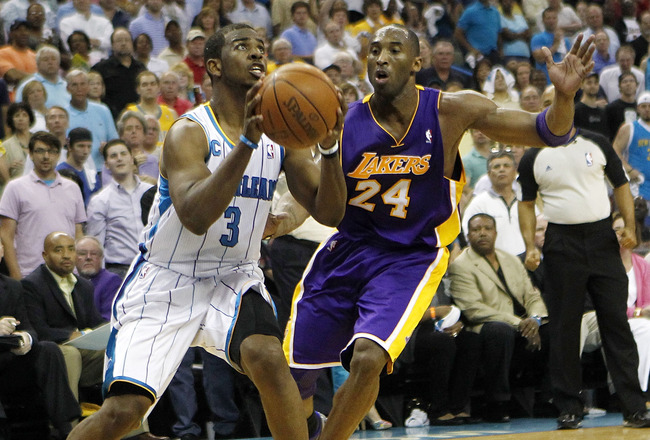 Lakers vs. Hornets
2-2
The Lakers are still playing that lazy basketball that defined their last dozen or so games of the regular season. Unfortunately these games are for keeps and Kobe sprained his foot in their game over the weekend. While he'll continue playing, he might not be able to win this for his team and they'll need Gasol to show up big time if they plan to move on. Chris Paul has been playing out of his mind in this series as he's averaging 25.5 ppg, 7 rpg, 11.5 apg, and 2 spg.
Mavericks vs. Trail Blazers
2-2
LaMarcus Aldridge has really been the key on the floor to this series for the Blazers despite all the headlines that Brandon Roy has been getting. Roy's story might actually be helping the team more though. His comeback story from possible career threatening knee problems is extremely inspiring and his teammates are surely rallying around their friend. Dallas has looked like the better team throughout most of the series but failed to win the last two games in Portland. They are going to have to start hitting their shots if they hope to advance.
Don't forget to "like"
SKOHRboard's Facebook page
, follow
@SKOHR
on Twitter, and if you enjoyed this article please
it with your friends. You can easily do all three with the links included here, the buttons just below this, and the gadgets to the right of the page!