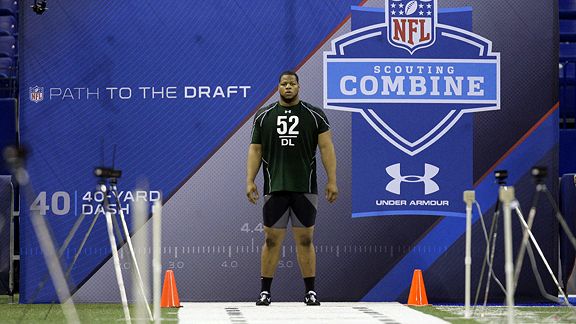 The NFL Combine starts tomorrow and despite already being in draft season for the last few weeks the premiere scouting event annually held Indianapolis is really when NFL draft talk starts to heat up. Who can resist some water cooler 40 time chatter? Nobody. There are notable drills that will be discussed, there will be guys flying up draft boards, and guys talking there way completely off draft boards but the best part of it is that we sports f
ans get to play the role of NFL scout over the next four days. The full schedule is here.
One of the aspects of the Combine that gets plenty of attention is the Wonderlic test. It's a "

a twelve-minute, fifty-question test used to assess the aptitude of prospective employees for learning and problem-solving in a range of occupations." If you'd like to take a sample test to see what it's like, I've got one for you, it's a 10 questions and you have 2:27 to answer them.
Once you click on the link start answering questions because
the clock starts ticking down immediately. Let's know how you did in the comments. Here it is.
Gisele must love Wonderlic scores
There are a few guys who ha
ve a lot to gain and a few who have a lot to lose at the Combine this year so let's talk about a few guys with major questions to answer.
Cam Newton, QB - Newton clearly has all the physical tools but he is going to have to show NFL teams during private interviews that he understands how to read defenses. Some people have said there are concerns about his ability to get out from under Center but a guy as athletic as him shouldn't have any problems like that. For him, it all comes down to smarts.
Prince Amukamura, CB - Amukamura seems to be the most ready to go Cornerback in this year's draft. The main question that he hasn't answered is his speed. We've seen supposed can't miss CBs slip in recent years after failing to blaze the 40 yard dash at the combine. While Prince set the Arizona state high school 100m record so he should be fine, but he still has to do it.
Robert Quinn, DE - Quinn missed this season after being suspended by the NCAA for improper contact with an agent. Although he has the size and athleticism his small amount of dated tape has caused some concern. If he puts on a show over the weekend like most believe that he can, it's possible that he could find himself getting selected in the Top 5 in April.
Ryan Mallett, QB - Mallet might have the strongest arm of the QBs in this class but he might also have more character concerns than any of the other ones too. Mallett is going to have to perform well on the Wonderlic and the private interviews in order to quell fears that he could be really super dumb or even addicted to drugs. If he does that we've seen other lanky rocket armed QBs, like Joe Flacco, do very well for themselves recently and he could be a mid 1st Round pick.
RBs Mark Ingram, Mikel LeShoure, and Ryan Williams - These three RBs are most likely going to be the first three RBs taken in April and for them, this weekend all comes down to that 40 time. While none of them are burners and times in the 4.5 range will be fine, anything closer to or above a 4.7 could be very bad to their draft stock.