In place of your regularly scheduled Monday Night Football game tonight, we'll be treated to the Orange Bowl. A great match-up of 2 teams from opposite coasts who've been playing very good football lately (by lately I of course mean in November). Tonight you should pay special attention to this year's possible 1st overall NFL Draft pick, Stanford QB Andrew Luck and future NFL or Michigan coach, Jim Harbaugh because this could be their last game at Stanford.
The Cardinal has had a phenomenal season with their only loss coming to the Oregon Ducks who will be playing for the National Championship next week. Luck has looked every bit the part of the top NFL prospect this season as he has led their offense which only recently found a solid running game behind RB Stephan Taylor. They will face a tough challenge in the always stout (except for their lapse to JMU) Virginia Tech defense. The Hokies are known for speed off the edges and a solid secondary.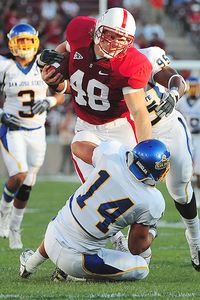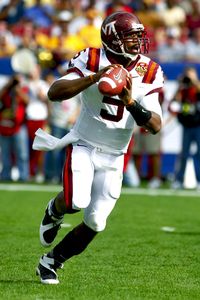 The Virginia Tech offense had a very high scoring year has been on fire lately. They are led by dual-threat QB Tyrod Taylor and RB Ryan Williams. Expect both Taylor and Williams to be in the NFL next year. In their 4 games against ranked opponents this season the Hokies have scored no less than 31 points and averaged 37. Stanford has their own dual-threat in Ironman Owen Marecic, who starts at Fullback and Middle Linebacker, and he is going to have a long night trying to contain Taylor and Williams.