The Las Vegas MAACO Bowl, featuring #10 Boise St. and #19 Utah, is being played tonight in Las Vegas or can be seen on ESPN if you aren't in Vegas. It's really the first bowl game that you should pay attention to this Bowl Season. Yes, I capitalize Bowl Season. As you've probably heard by now, Boise St. was gunning for another undefeated season and a BCS bowl until the marauding Nevada Wolfpack, led by Colin "Cam Newton lite" Kaepernick, beat the Broncos. They somehow forced Kyle Brotzman, the Boise kicker, to miss two late game winning field goals and thereby crushed the Bronco's National Championship and BCS bowl dreams.
No doubt Boise St. will be out looking for vengeance and beating Utah tonight is there only hoping of finding some solace. However, Utah isn't going to be a pushover. They are led by their widely respected coach Kyle Whittingham (seen above with Boise St. coach Chris Petersen and Vegas showgirls). The Utes have actually won 9 straight bowl games. Although their starting QB Jordan Wynn is out he will be replaced by former starter Terrance Cain. The Utes feature the 18th highest scoring offense and the 23rd stingiest defense in the country. They should provide a great test for Boise St.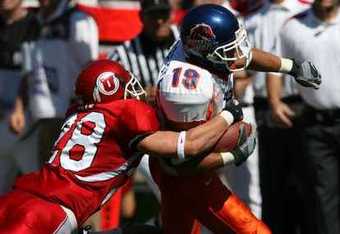 Who should you keep an eye out for?
Boise St.
-Kellen Moore, QB, 6-0" 190 lb. 4 year starter and one of the most efficient passers in NCAA history
-Titus Young, WR, 5-11" 170 lb. speedster
-Austin Pettis, WR, 6-3" 200 lb. spectacular hands and enough speed to beat most collegiate DBs
-Nate Potter, OL, 6-6" 295 lb. hugely talented but moved inside from OT this year due to lack of athleticism, best suited for RT or OG
Utah
-Brandon Burton, CB, 6-0" 185 lb. one of the top CBs in the draft, shutting down his guys tonight would really help his stock
-Zane Taylor, C, 6-2, 305 lb. an athletic three time All MWC selection
The Utes will be joining the Pac-12 next year and Boise will be joining the MWC next year. While Utah will have a shot at getting some of that Automatic Qualifier goodness, Boise St will remain in the same position or needing an undefeated season to have any chance at all of a National Championship. However, as you can see, this will be the final game for some of Boise St.'s star players and they'll have a tough road ahead without those guys next year.